Contact
___________________________
__________________________
Home
Our Story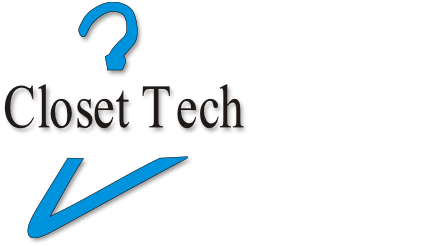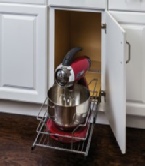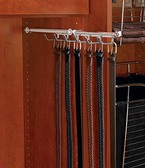 Package contents:
(1) 14" telescoping rod and mounting hardware
Assembled dimensions: 3.25W x 13.875D x 2H Holds up to (6) belts or scarf Simple
(2) screw installation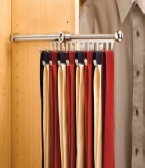 Package contents:(1) 14" telescoping rod and mounting hardware
Holds up to (15) ties or scarves, Reversible for left or right installation
Assembled dimensions: 3.25W x 13.875D x 2H
(2) screw installation
Package contents:(1) Chrome closet basket and mounting hardware,
100 lb full-extension ball-bearing slide system Provides both durability and elegance
with its heavy gauge wire construction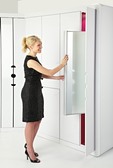 Package Contents:(1) Mirror and mounting hardware
Assembled Dimensions: 3.48" W x 13.9" D x 48" H
Soft-Close Soft-Open slide system Install in a space just over 3-1/2" wide
Simple (8) screw installation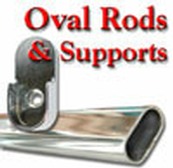 Very durable oval closet rod with supports - Material: Steel Finish: Chrome
Sit and Stand Workstation No tools are required for installation making it easy to retrofit existing office space Gas assisted height adjustment, Provides smooth, quiet and infinite
height adjustment through a 13.8" range allowing users to easily set the workstation to
their ideal ergonomic position. Primary work surface can be extended 20" above the desk a
large height adjustment range accommodates a greater variety of users. The primary work
surface is large enough to accommodate 2 x 24" monitors, KV monitor arms, an Apple iMac
or laptop with monitor.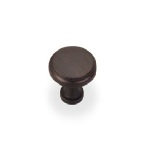 Our top selling Closet handles and knobs

Motion sensor lighting makes it easy to use in those difficult to see places. USB recharge system makes it simple and cost effective to use. Stick inside a closet or drawer to see your clothing items without waking others.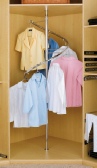 Break away from the ordinary with The Spiral Clothes Rack. This perfect corner closet
solution has a 360-degree turning radius with an adjustable height of 72-1/2" to 84"
and the ability to hang 40 single items of clothing (long, medium, and short hanging)
from top to bottom. Comes complete with a stabilizer bar, post and pivot hardware,
and mounting hardware
Side Mounted, Pull-Down Closet Rod is available in three sizes and features an adjustable
rod length to accommodate openings from 21-1/2" to 26", 26" to 35", and 35"- 48".
The telescoping pull-rod is another innovation from Rev-A-Shelf, now it can be the length
that works best for you. It is adjustable from 34" to 50" to accommodate universal design
and handicap accessible applications
Revolutionize the way you store your Items.
The beautiful organizers are designed for Kitchen
cabinets and are made with a heavy-duty chrome
plated wire frame and 100 lbs. rated full-extension
ball-bearing slides.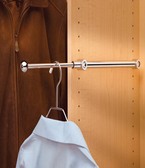 (1) Chrome rod and mounting hardware knob Reversible for left or right installation
Simple (2) screw installation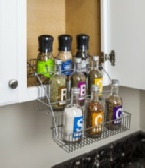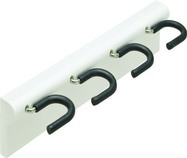 Those handy organizing things to make life easier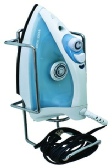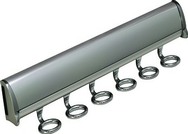 Keeping your scarf collection in order made easy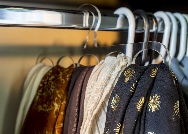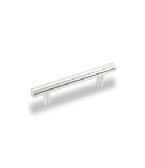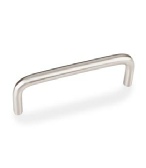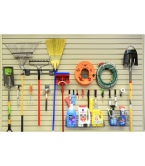 Garage Accessories and organizing systems